The Sociology of Health
Perm state national research university. – Perm, 2011. – 238 p.
Autors:
Natalya A. Lebedeva-Nesevrya and Svetlana S. Gordeeva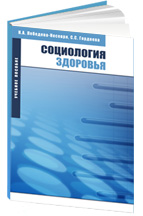 This textbook presents the main approaches, concepts and theories which reflect the social aspects of human health. It focuses on the impact of social factors on human health at an individual and population levels and the attitude to human health. The textbook reveals the characteristics of public health as part of the social structure and of medicine as a social institution.
The textbook is designed for graduate and master students reading social science, as well as for readers who specialize in sociology or are interested in social theory. It is helpful for students and teachers specializing in the field of social hygiene, social epidemiology and public health.
You are here