From scientific idea to practice.History of foundation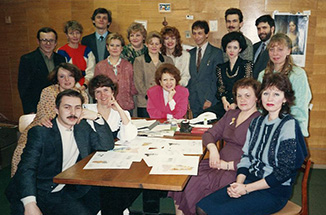 Perm Regional Research Clinical Institute of Pediatric Ecopathology (PRRCI PE) was established on the 17th of January 1995 due to Perm Krai Administration Decree No. 9. The foundation of the Institute resulted from the longstanding work of researchers and became an adoption and implementation of the scientific idea intoeveryday practice. The Institution's research works, that are highly valued and have a unique character, have launched the beginning of challenging road.
The main direction of the scientific-practical activities of the Institute was to study the patterns of the child pathology development associated with exposure to environmental factors. Use of the complex adequate diagnostic methods in clinical practice enabled not only to explore the features of pathomorphosis of diseases developing in child body under exposure to chemical substances, but also toelaborate specialized technology for diagnosis, treatment and prevention of the environmentally determined pathology.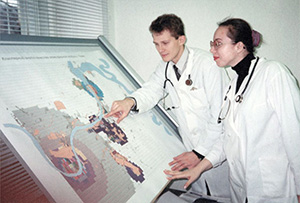 The research results formed the basis for more than 15 screening diagnostic programs, 20 medical guides for physicians, 18 technologies, standards and protocols for providing specialized assistance for children.Out-patient care is provided annually for more than 28 000 patients of the Perm region. The Institute actively ensures in situ preventive care to the child population: preschool and school-based educational institutions, sanatoriums and preventative clinics, children's homes, in school playgrounds, summer holiday camps for children.Annually more than 1200 children with the most severe or complexforms of pathology from thepoint of view of differential-diagnostic plan are involved in specialized inpatient care.For the first time ever in Perm region the program of dispensary observation for patients with diseases associated with exposure to chemical habitat factorswas developed.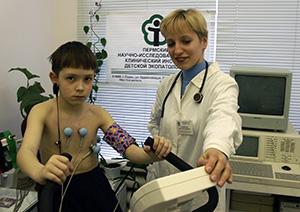 Within the period 1995 - 2009 years the Institute has prepared an extensive fundamental scientific-methodical base, worked out innovative scientific-and-research approaches, what made possible to apply them on the All-Russia level.
On May 8, 2009, according to the Resolution of the Russian Federation Government the Institute was reorganized into Federal Budget Scientific Institution "Federal Scientific Center for Medical and Preventive Health Risk Management Technologies".
Today the FBSI "Federal Scientific Center for Medical and Preventive Health Risk Management Technologies" is a unique cross-disciplinary institution practicing in medicine, ecology, informatics and chemistry. The results of the Center's activity are highly appreciated in Russia and abroad.
You are here