Professor Nina V. Zaitseva, PhD, DSc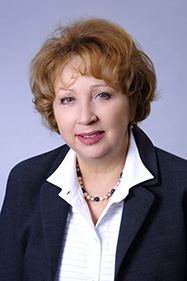 Titles:
Fellow of the Russian Academy of Sciences, Honored Worker of Science of the Russian Federation
Research Interests:
Fundamental and applied aspects of human ecology. Mechanisms of environmental impact on human health. Health risk assessment and medical and preventive technologies of health risk reduction.
Awards and Honors:
"I. Pavlov's Silver Medal for the Development of Medicine and Public Health" of The Ministry of Public Health
Working Group Member Certificate of the World Health Organization "Practical Assessment of Environmental Health Problems "
The U.S. Environmental Protection Agency Award "In recognition and appreciation for noteworthy contributions and special achievements in environmental protection services" (March 9, 1995)
Certificate of Achievement, the Agency for International Development
Certificate of Completion, "Environmental Audit for Industry" Training Programme, the European Union's Tacis Programme
Distinguished Leadership Award for Outstanding Contribution to Contemporary Society, the American Biographical Institute
Honorary Citizen of Perm Krai
Qualification:
Member of UNEP National Committee for Russia
Member of RAMS Committee on Risk Assessment
SEP expert
Member of the Expert Council of Public Health Ministry in the System of Risk Assessment Institutions Accreditation
Auditor of Environmental Certification System
Member of the Regional Group for Developing Allowable Complex Environmental Impact Guidelines
Publications:
More than 650 scientific publications, 47 certificates of recognition and patents for invention, 11 guidelines for physicians.
Research Supervision:
17 higher doctoral theses and 42 PhD theses.
Professional Organization Membership:
Member, International Society of Exposure Science (ISES)
Member, International Society for Environmental Epidemiology (ISEE)
You are here